Mitzvah Projects
Lead an arts and crafts project at a local nursing home, school or shelter
Gather friends to help repaint the walls of a local school, community center or animal shelter
Invitations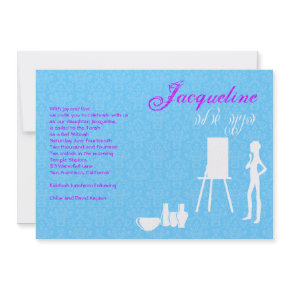 Art Theme
Features girl in beret with easel and ceramics. Can be ordered with a boy, other elements (camera, etc.) and in any colors. Hebrew added free. Available on matte or shimmery paper.
Stamps
Use stamps celebrating the work of female Jewish artists. See the
eMitz stamp gallery
Sign In Board / Book
Mount a poster of your favorite painting on foamcore, rest on easel with metallic pens
Centerpieces and Tabletop Decor
Name each table after a different artist or artistic style. Incorporate well-known art, in two or three dimensions, from that artist or style into the centerpiece itself. Be creative!
Fill tall glass cylinders with art supplies such as bottles of paint, brushes, which you can then donate to the art program at an afterschool program, community center or nursing home. Top the cylinders with flowers for a more elegant look, surround by votive candles in colorful glasses.
Use photographs of famous artists, their works of art and your own child's works of art to create Photofetti, the fun, stylish, personalized "photo confetti" you sprinkle across the table.
Click here to visit Photofetti
.
Place Cards
Using ribbon, tie each guest's name tag to a paint brush. Donate any brushes left not taken home by guests to an art program at a school or center
Favors & Dancefloor Giveaways
Weekend passes to a local art museum
French artist's berets
Games & Activities
Create-a-T-shirt booth
Sand art
Candy art
Wax hands
Caricaturist
Sculpey table
Other Decor
Posters from a local or national art museum